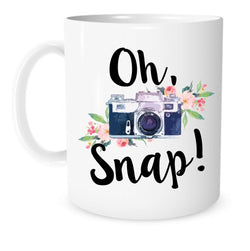 The Coffee Corner
Oh Snap! Coffee Mug
Celebrate the photographer in your life! The Oh Snap! Coffee Mug features a camera and floral design on a white ceramic cup. Perfect gift for the woman who loves expressing her creativity through photography. 
Note: This product is an Amazon selected item curated especially for you. It can only be purchased directly on Amazon through the link below. Culture of Industry does not handle returns or customer service for this product.

Product Details from the Publisher:

Brand: The Coffee Corner
Color: White
Features:
INCLUDES: One 11 Ounce White Ceramic Coffee Mug
HIGH QUALITY: Printed using only the highest quality HD ink to prevent fading; printed on very durable bright white mugs
SPECIFICATIONS: Each mug holds 11 ounces and measures 4x4x4 inches
CARE: Microwave and top rack dishwasher safe
GUARANTEED SATISFACTION: If you are not completely satisfied with the product for some reason, a full refund will be issued. Your satisfaction is the #1 priority!
Publisher: The Coffee Corner TM
Details: Start your morning off right with this 11oz coffee mug! This mug makes the perfect gift for any occasion! Lettering is printed on the mug using only the highest quality ink, to ensure that the ink will not fade over time. Design is printed so it is facing away when held in the right hand. Mugs are microwave and dishwasher safe!
UPC: 733556454545
EAN: 733556454545
Package Dimensions: 4.6 x 4.3 x 4.3 inches
Disclosure: Culture of Industry is an Amazon Associates Member. If you view this product on Amazon through our store and purchase it, Culture of Industry will receive a commission at no extra charge to you. It's a win-win for everyone!